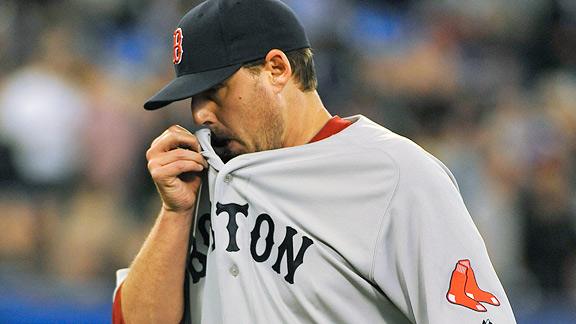 Part of the title of this post is questionable since the rumor mill started rolling saying that General Manager of the Boston Red Sox, Theo Epstein, will also be leaving the organization. However, for now he's still the GM which makes him still in power of a lot of decisions made in the front office.
As pretty much any Red Sox fans know it, John Lackey, right handed starting pitcher for the Sox, has been completely awful. There is no sugar coating how bad his overall performance on the mound has been. Sure he went 12-12 this season, but that didn't come without the Red Sox working their rear ends off just to give the guy runs so he could survive through the game.
The last Red Sox game I went to was against the Baltimore Orioles on September 19 of this year (all in the middle of the sickening collapse the Red Sox put together) and it was on this day that John Lackey made his last home start of the season. As expected, he gave up 3 runs in the first inning. I thought, "this is it, here we go, this game is already over."
It seemed that way until Jed Lowrie hit a monster 3 run home run after already having 1 scored to put the Sox up by 1. However, it still didn't feel comfortable. Sure the Red Sox answered quickly by putting up 4 in the first inning to go ahead, but come on, it was the September Red Sox and John Lackey was on the mound. I'll give him this though; he stuck it out and the rest of the team put on an offensive show. Well, when his time was up, Tito marched out there to take him out and here comes the best part. When Red Sox nation boos one of their own, you know there's an issue. Boos were all Lackey heard as he walked back to the dugout.
John Lackey signed with the Red Sox in the off season before the 2010 year in which the team signed him for almost $16 million a year. Here's where things get a little frustrating when it comes to the numbers he's put up. In his career with the Red Sox (2 seasons) he's 26-23 with a 5.25 earned run average. Let's do a little comparing.
Jake Westbrook of the St. Louis Cardinals. He may not be one of the most well known pitchers around, but it's the numbers that really matter. This year with the Cardinals he went 12-9 with a 4.66 ERA. In his last 2 years (1.5 with St. Louis and 0.5 with Cleveland) he's gone 22-20 with an ERA of 4.45. You may wonder why I chose someone who had very similar numbers to Lackey. My reasoning? He's 2 years older than Lackey and is getting paid only $8 million a year; half of what Lackey is receiving from the Red Sox.
No one wants to have a pitcher on their team that is going to put up such mediocre or poor numbers, but if it's going to happen, have it be someone that isn't getting paid money that hurts the fan's wallets when they perform so poorly. The reason I go off on this rant about Lackey is that the Red Sox, in some way, some form, have to get rid of him.
The other day I went to go see Moneyball. In the movie, before the Oakland Athletics acquired David Justice from the New York Yankees, Peter Brand (who was played by Jonah Hill) stated that George Steinbrenner was so desperate to get rid of Justice, he was more than willing to pay off the rest of his remaining salary. When I heard that it got me thinking. The Red Sox have enough money and should think about doing the same thing.
Some may read this and question why I have such a negative opinion on John Lackey, but something tells me that most people, especially Red Sox fans, will agree with me fully on what I have presented. In my last post I mentioned that starting pitching was the biggest issue for the Sox downfall in September. Lackey is certainly at the top of the rotation as far as being the most disappointing. Start somewhere, fix the rotation, get the Red Sox back on the right track.